Shifting gears in iRacing

edracing, le site
• Szymon O's recommended shifting techniques:
  if you have seen an update or related information please link me to it
iRacing recommended shifting techniques (techniques recommandées)
*clutch: embrayage,
*Heel and toe: talon-pointe,
*throttle lift:levage de gaz,
*throttle blip: papillon de gaz soit un coup de gaz,
*just shift, do not allow downshifting until the selected gear won't overred:Il suffit de décaler, ne pas autoriser la rétrogradation jusqu'à ce que la vitesse sélectionnée ne soit pas
dépassée
"enclenchée" (je le traduirai ainsi).
Les voitures sont dans l'ordre des mises à jour, super site.
par exemple: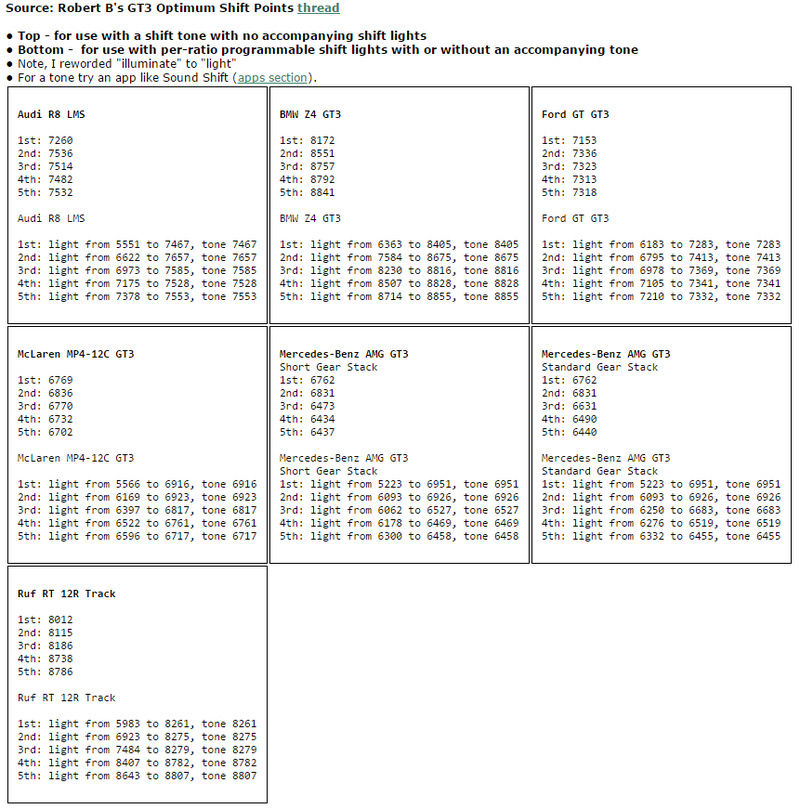 Index du site

catalogue de tous les liens/applications liés à iracing
All in english of course!!
_________________
De l'amour naît le bonheur
Charles Péguy
Les pneus, c'est comme les strings. Quand tu vois la ficelle c'est que tu n'es pas loin du trou!!!
Romancier





Messages

: 4335


Date d'inscription

: 09/03/2014


Age

: 42


Localisation

: Enfant de la cité minière au maillot Vert


N° de dossard

: #1275




---
Permission de ce forum:
Vous
ne pouvez pas
répondre aux sujets dans ce forum